---
Carson Property Management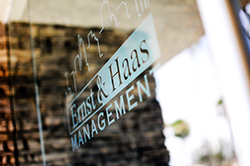 We offer a full range of property management services tailored to you as an investor, homeowner, or landlord. We have an extensive porfolio with over 300 single family homes, townhouses, condos, and apartments in the area.
The Benefits of using Ernst & Haas Management Co
Leasing Services

Locating and placing the proper residents in your property in a timely manner is no easy task, and requires a unique combination of experience and discipline. Having leased over 5,000 units, we make sure to take advantage of every means available to find the right resident quickly.

Market Rent

Rent set too high means an extended vacancy, while a rent set too low diminishes your returns. We perform a comprehensive rent analysis designed to attract quality tenants while maximizing occupancy.

Getting Your Property Noticed

There are a variety of ways to advertise a property, many of which don't work. Over the years we've refined and adjusted proven methods of advertising and use them to their full potential, including:

Internet rental services with referral links from other sites
Visible post signs
Extensive referral network throughout the area including rental agencies, corporate relocation, real estate, and locator services
Our website, which is updated daily

Finding the Right Resident

All Ernst & Haas residents go through a thorough screening process designed to minimize your future risk of non-payment or damage. Here's what the screening process entails:

Detailed background check including credit score, criminal activity, court records, bankruptcies, etc.
Thorough rental history review and verification of sources
Employment and income research and verification
Financial analysis which weighs debt, income, and monthly budget projections

"Leasing the Property"

The property isn't considered rented until the lease is signed and funds are received. The leasing process includes:

A comprehensive move-in conference, where a customized lease is reviewed and executed
Providing the resident(s) with an instructional packet that important information to assist them in settling into their new home
Performing a move-in inspection at the property within 24-hours of signing the lease to ensure that the residents are off to a good start
Collecting numerous move-in and move-out photos to ensure proper documentation of the condition of the property to mitigate disputes

Maintenance Services

Ernst & Haas offers its clients an excellent solution to ongoing maintenance needs. Our maintenance coordinators take great pride in keeping your costs to a minimum while still protecting the value of your property. Rental properties require a durable yet cost-effective maintenance program, which is the key to your total return. Some of our maintenance services include:

Hiring and monitoring reputable maintenance vendors who offer a combination of quality work, low prices, and excellent customer service
24-hour emergency assistance for residents
Oversight of vendor processes
Maintaining a thorough maintenance history for each property
Conducting regular property inspections with written inspection reports furnished to our clients
Strict oversight and enforcement of vendor recalls and administration of all warranties, including home warranty policies

Resident Relations

One of the most difficult things about being a landlord is dealing with resident issues. Some residents manage themselves, while others require more attention. Our knowledge and experience in dealing with all types of residents means lower vacancy rates and fewer problems. All residents are treated with respect and fairness, but never at your expense. We manage our residents by:

Providing swift and effective rent collection procedures, up to and including necessary legal action
Utilizing AppFolio, our software company, which helps minimize accounting errors
Having all our employees receive extensive training on all California and Fair Housing laws
Correcting any violations from Homeowners Associations and municipalities
Corresponding to residents concerning maintenance, lease, and neighborhood issues
Handling all complaints and inquiries from residents and neighbors
Providing maintenance tips, reminders, and community information on our website, blog, and tenant newsletter

Accounting & Reporting

Ernst & Haas offers a customized accounting and up-to-the-minute reporting system that is second to none. Our software allows us to

Collect rent electronically, which increases resident satisfaction and makes sure you receive your money faster
Provide detailed monthly statements and a comprehensive annual report
Service your mortgages, property taxes, insurance, and HOA dues at no extra charge
Maintain comprehensive files of all property transactions and correspondence
Issue 1099 tax forms

Inspections

Our objective is to complete quarterly exterior and annual comprehensive interior inspections of every home we manage. During this process, your property supervisor checks to make sure that the residents are abiding by the lease terms, and that there are is no serious damage to the property. The supervisor checks for such things as unauthorized pets or residents, potential maintenance issues, lease violations, and hazardous conditions.
Inquire About Our Services
Management Protocol
First we...

Determine your objectives and formulate a plan to achieve them

Then we

Collect your rents
Conduct property and unit inspections
Prepare unit reports on condition
Review reports with owner
Review current rent levels
Draft new rental agreements as needed
Advise tenants on new policies and procedures

When necessary we...

Review and adjust rents annually or as directed by owner

We increase your control by:

Having someone else handle the day-to-day issues and challenges of property management
Having a property management specialist available to make recommendations at your request
Having timely, accurate, complete reports at your fingertips to facilitate analysis and tax preparations
Having the objectivity of top down management
Having time for other priorities

When a tenant moves out, we…

Conduct move-out inspections
Photograph the unit
Secure the property
Itemize deductions from the security deposit
Issue security deposit disposition report to tenant
Summarize actions needed to bring the unit to rent-ready condition
Supervise the preparation of vacancy

Then we…

Advertise for new tenants
Show vacant unit
Interview prospective tenants
Screen prospective tenants
Collect security deposits
Conduct move-in inspection
Photograph unit upon move-in

We also...

Pay all vendors, including monthly recurring bills, utilities, taxes, mortgages, etc… as determined by the property owner

Every month we produce a complete computerized reporting packet detailing all expense and income receipts
Professional Leasing and Managing Real Estate
A Commitment to Excellence

For more than a decade, Ernst & Haas has been dedicated to managing real estate. We are a full-service management firm with the goal of adding value to your real estate investment. We have become one of the area's largest management firms because we have earned the trust of our clients through skilled management and straight forward advice. We are proud of the fact that nearly half of our clients have been with our firm for more than 5 years.

Property Management Business

Unlike many of our competitors who are brokerages with a management component, our primary directive is the management of our clients' real estate portfolios. Our goal is to maximize the long-term returns on real estate investments through a sound management plan, and we are not distracted by other, ancillary services such as sales or exchanges. While we can consult our clients on purchase strategies and investment options, we manage your property so that you'll never want to sell. We do offer brokerage services for our interested clients, but you are free to work with any broker of your choice.

Our Management Method

Our method is best described as tedious and methodical. We believe that consistency and commitment to sound investment principles will eventually win out over hype and gimmicks. We can't predict the future, but we can promise that we will consistently and aggressively pursue the solid fundamentals which have produced superior returns for our clients for more than a decade. Many managers will mortgage your future returns so they can look great today. Success over the long run requires wisdom and experience.

Making Technology Work for You

Our method may be tedious, but we are not behind the times. In fact, you won't find a management firm anywhere that has made better use of technology to serve its clients and residents than ours. Our firm takes full advantage of the latest technology by utilizing online access to applications, rent payments, and maintenance requests. Our website also offers client and tenant portals, where owners can access information and view reports, and tenants can track and schedule rent payments.

Schedule of Fees

Type of Service
Fee
Account Setup
No Charge
Maintenance Administration
No Charge
Property Photographs
No Charge
Property Inspections
No Charge
Full Accounting Service
No Charge
Lease Renewal (Existing Resident)
No Charge
Leasing (Placing a New Resident)
Fee waived for buildings with more than 2 units.
$195
Monthly Management
6.9% of Rent
Professional Management Services
Ernst & Haas Management Co. is one of the most recognized companies in Long Beach to provide property management services. Our company has been experts in Long Beach property management since 1998. We are a local company that provides the services our client's desire. Long Beach is only one of the many areas that we service throughout Los Angeles County. We manage single-family homes, condos, apartments, and office and commercial spaces. If you are interested in getting a management proposal, feel free to call us. We can usually create a proposal in about a day depending on the property type.
Property management services in Long Beach includes showing and leasing property. Property management requires maintenance from time to time and having maintenance personnel readily available helps get tenants a quick response to their maintenance requests. The accounting department creates financial reports for all activity at the property and is responsible for paying all the bills and owners on a monthly basis. Property supervisors are responsible for monitoring activity at their properties and also interact with tenants when there are issues going on at the property. Issues with tenants can include non-payment of rent, or violation of lease provisions.