Increasing Trust with Your Clients
Your Clients

Like most realtors, you spend a large amount of your time and resources gaining new client relationships. You know that if you provide good services to your clients, they often generate repeat business and referrals. So you are careful who you refer them to for financing, title, and home warranties, because the way those businesses treat your clients usually reflects on you. Successful realtors provide excellent referral resources to their clients.

Our Specialty

There are some things you don't want to do as a realtor and property management may be one of them. If 80% or more of your income is based on sales, do you really want to miss a prospecting opportunity because of a plumbing issue in your managed property, or because you have to file eviction paperwork by the end of the day? Our client services will always come first.

Why Ernst and Haas Management?

Advantages for the agent:

The confidence of having a trusted property management referral source for hard-earned, and lucrative investor clients.
The peace of mind knowing that your client will be referred back for any additional sales or listings of property. Many companies say this, but we can assure it. We believe in fair reputable business principles and don't steer clients away from existing relationships.
The ability to learn the tax benefits of renting real estate, including 1031 exchanges, and how to effectively work with the real estate investor, including our assessment of areas that will both appreciate and rent well.

Advantages for the client:

The peace of mind that comes from being able to trust these valuable assets to the property management experts who have been in business for more than a decade. Anyone can say they can manage property, but will they really find and retain qualified tenants, regularly inspect the property, maintain the asset, and follow all landlord and real estate laws? Our decade-long track record proves that we can be trusted.
The peace of mind that comes from knowing what your management fees are. Many management companies will claim to $50-$75 "flat" management fee, but pay attention to the fine print - there are always charges for anything from setup fees, fees for putting a sign in the yard, advertising fees, inspection fees, fuel surcharges for inspections, maintenance mark-up, key fees (in addition to actual re-key costs), admin fees to deal with homeowner's associations, utility turn-on and turn-off fees, and more! All these, and many others, are included in our simple, predictable fee structure. When you do the math fee for fee, we not only the most experienced, but also the most affordable!
The peace of mind that comes from knowing that each month the client will receive detailed financial reports and copies of all invoices and correspondence. And if the client wants us to pay the mortgage and HOA fees, we will do that too, at no extra charge.
The Benefit of a Ernst & Haas Relationship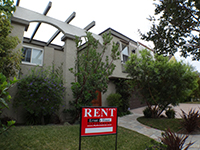 Our primary business is property management - it's what we do and who we are. We offer brokerage services for some of our clients, but will always refer your clients back to you for any listing of currently owned property or purchase of new property. In fact, we'll even freely give you our opinion on future investment properties you p lan on purchasing for your clients. Why? Because if you refer those properties to us for management, we would like to be part of the profitable investment your client is making. It all starts with wise purchasing decisions.
Getting Started
You will find that working with Ernst & Haas is a very pleasant experience. Our professional, courteous staff will always treat you and your clients with the utmost respect. Please contact us now so we can begin on our new partnership!